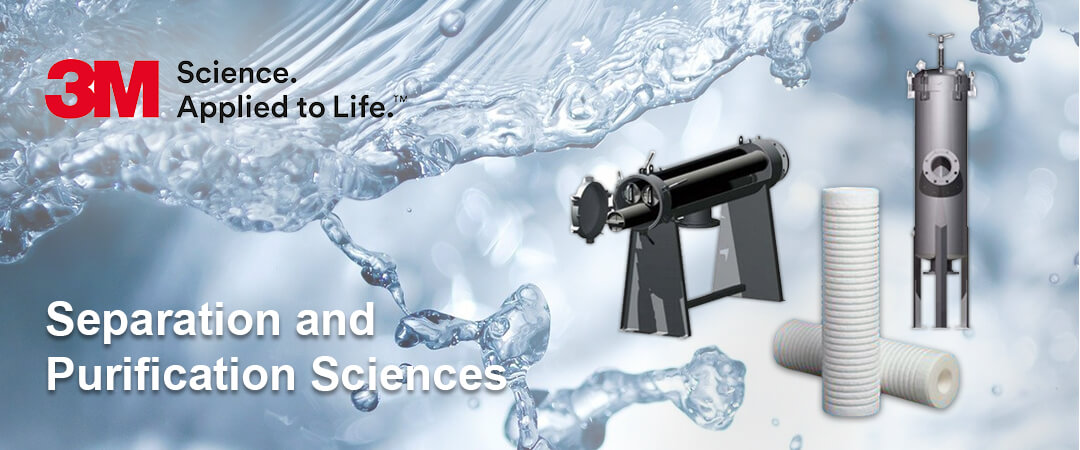 3M Separation and Purification Solution
Quality, Consistency, Performance
3M Purification provides filtration and separation solutions for a wide range of industrial processes including Oil & Gas Processing, Petrochemical/ Chemical, Biopharma/ Life Sciences, General Industrial, Electronics, Residential/ Commercial/ Food Services, etc.
Whether the application is process water clarification, high purity water filtration for semiconductor manufacturing, fine ink pigment classification, or the reduction of contaminants in petroleum, 3M Purification has the application knowledge and products to provide solutions to the most challenging of requirements. From cost effective, coarse filtration using filter bags, to the finest particle reduction using membrane filters, customers depend on 3M Purification for filtration solutions.
Industrial Water Filtration Systems
Help protect process equipment from contaminants which can affect their performance, and address water quality concerns with 3M products for efficient, reliable process water filtration.
When it comes to filtering water for a variety of industrial applications, 3M comprehensive selection of filters includes a range of depth, membrane, large diameter filters and housings for compatibility in a wide range of operating conditions.
Industrial Water Filter Cartridges: Reduce contaminants—such as dirt, mineral oil and hard and soft gel contaminants—in a variety of industrial applications. 3M extensive line of filters includes bag and depth filters, as well as large diameter filters and pleated membrane cartridges.
3M Filter Housing for Water Quality
Look to 3M for a wide variety of solutions and technologies for Bioprocess applications.
Adsorptive Depth Filtration
Bioburden Reduction
Buffer and Media Filtration
Chromatography and Column Protection
DNA Removal
Endotoxin Removal
HCP Removal
Cell Culture Clarification
Single-use Chromatography
Sterilizing Grade Filtration
Vent and Air Filtration
Commercial Food & Beverage Water Filtration Systems
Commercial food service operations rely on high-quality filtered water to keep customers coming back. 3M helps deliver Recipe Quality Water™ with a full line of Commercial Food Service Water Filtration products.
Hot Beverage Water Filtration: We go deep into treating the water that you brew to satisfy your customers' coffee and tea cravings.
Cold Beverage Water Filtration: While you take care of what drinks to make, we take care of your key ingredient: water.
Multiple Applications: One for all: the go-to choice when you have more than one equipment working at the same time.
Ice Filtration: Be their preference cubes or flakes, we ensure the quality of an icy cool experience for your customers.
Residential Water Filtration Systems
In order to improve overall household water quality, 3M Residential Water Filtration products address common water quality concerns such as sediment and chlorine taste and odor. We also offer products that can reduce contaminants such as lead and some that help protect pipes by reducing scale.
Address household water concerns and improve water quality throughout the entire home with our full line of drinking water filters, reverse osmosis systems, whole house water filters and water softeners. With over 75 years of residential water filtration experience, we can help you find the right water quality solution.
Hot Cold Water Dispenser
Drinking Water Filtration
Whole House Water Filtration