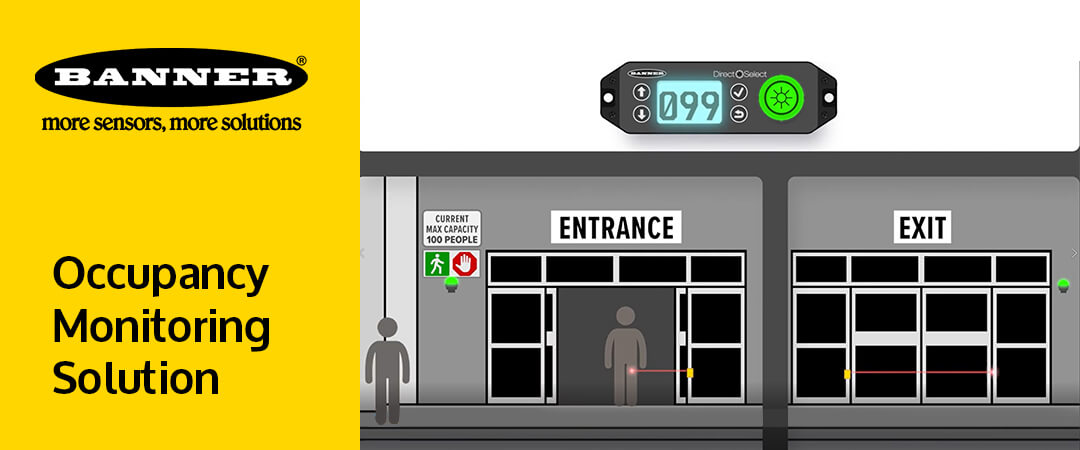 Crowd Monitoring Made Simple
An easy-to-implement solution that supports social distancing
Creating a safe environment for your customers and staff is essential to doing business. For many businesses, implementing social distancing solutions is now necessary to control the flow of customers through a store.
Banner's occupancy monitoring solution makes it easy to keep a constant, accurate count of the number of customers in your store and notifies you as you approach full capacity.
Automates the monitoring of entrances and exits using optical sensors
Provides familiar green/yellow/red indication to customers
Setup is quick and easy, requiring no alterations to area infrastructure (Our Counters & Sensors are wireless)
Notifies staff as customer count approaches capacity
Offers optional reporting to identify trends in customer traffic
Our controllers are able to communicate with other devices (Eg: Infrared thermometers, barcode scanners, cameras, etc)
How Does Occupancy Monitoring Solution Work?
Banner Engineering Makes Counting The Number Of Customers Inside A Store Simple and Easy
For manual counting, pair an employee with a Direct Select at each doorway: at entrances, employees increase the count for everyone who enters, and at the exit, lower the count for each person that leaves.
Pair with an indicator light to clearly show when it's safe to enter, and when people have to wait outside. Keep people safe and maintain an efficient flow of business with the easy-to-use, battery-powered Direct Select.
For a more automatic solution, mount IR sensors at door entrances and exits to track the number of customers on a single direct select. When customers walk through doors, our smart sensors can determine if a customer is leaving or entering, and adjust the count appropriately.
Visual feedback combined with signage helps communicate when it's safe for customers to enter the store, and signal when the store has reached capacity.
We offers a variety of secure and easy-to-deploy devices as a part of our trusted wireless network. These devices are designed to push data to onsite servers or the cloud, providing you with the data to support a safe environment.
Occupancy monitoring solution automates the monitoring of entrances and exits and provides easy to understand visual indication to customers when they can enter the store.