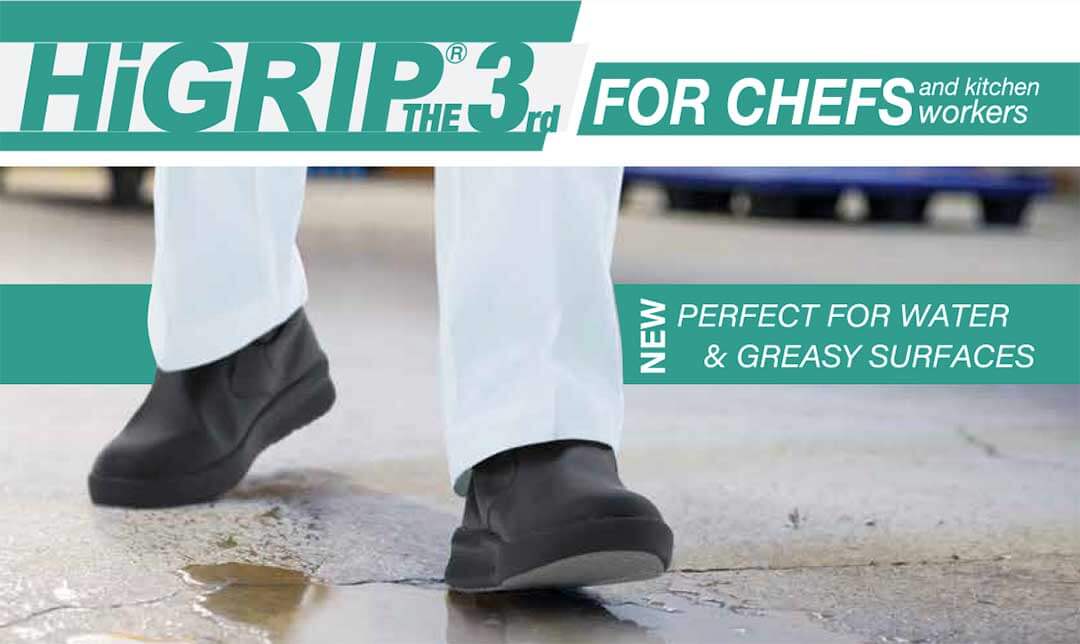 Midori Anzen – No.1 Safety Shoes in Japan
Midori Anzen is Japan's leading pioneer in safety shoes and work shoes with over half a century of experience since 1952. Backed by the high level of technical expertise and an integrated production system that includes instep and toecap, Midori Anzen delivers foot safety to every customer with consistent superior product quality and an uncompromising spirit to pursue product improvements and innovations.
HiGRIP NHS-600 – Designed Specially for Chefs and Kitchen Workers
Designed and manufactured by highly anti-slip rubber materials that provides the highest gripping performance on any surface.
The outsole is designed for easy cleaning.
The shoe cushion perfectly fits all types of feet.
Air-ventilation function from the insole helps to reduce humidity and moisture inside the shoes.
The slip sign on the outsole also allows indication of when replacement is need.
NHS (HiGrip) Series – Perfect for Water & Greasy Surface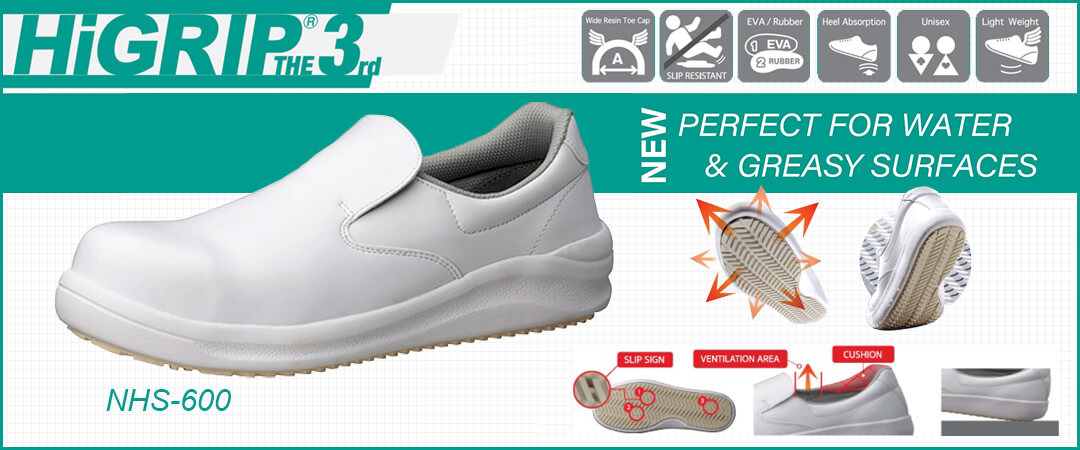 Wide Toe Cap
NHS uses 70 J wide Resin toe cap. The cap is specifically customed to fit the Asian foot anatomy. Asian feet tend to be wider, therefore the 4 mm wider toe cap helps with comfortability. The resin makes the shoes lighter as well.
Material
Upper – Midori uses only high grade synthetic leather. This makes the shoes more durable.
Sole
Uses the cement process because this sole is rubber. Rubber generally has a better grip in comparison to PU. However, Midori has designed this sole to have a multi-directional anti-slip function.
Normally, anti-slip resistant shoes will only function vertically and horizontally but this sole is designed for diagonal movement as well. Does not have ESD function
Insole
The shoe cushion perfectly fits all types of feet. It is suitable for oily floors and wet environments.
Safety Shoes Specification
Material
● Toe-cap: Wide Resin Toe Cap 70J
● Upper: Synthetic Leather
● Insole: Polyurethane (Antibacterial · Deodorant)
● Shoe sole: EVA / Synthetic Rubber
Standard Weight: 720 g / Pair
※ Standard weight is based on 26 cm.
Size : 22.0 – 28.0, 29.0, 30.0 cm (EEE)
Color : White/ Black
Standards
● JSAA Certified Class A Working Shoes
Features
● Slip sign installed
● multidirectional slip resistance
Other Foot Protection Articles