LOCTITE® is one of the leading Henkel brands, a global leader in industrial adhesive solutions. LOCTITE® adhesive products are high-performance, engineered adhesive, sealant and coating solutions for both industrial and commercial purposes.
Their innovative technology, unrivalled expertise and diverse products provide the ideal solution to many manufacturing, engineering, industrial and domestic challenges, including:
Instant bonding
Structural bonding
Cleaning and lubrication
Thermal performance
LOCTITE® Applications and Industries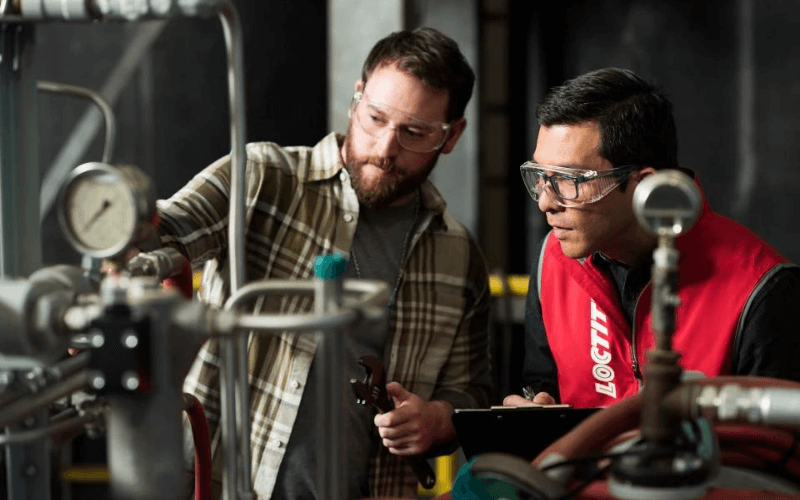 LOCTITE® provides industrial solutions for the common, complex and unique challenges you face daily, no matter what sector you work in. Find products and services carefully designed to meet the needs of your industry, whether you're manufacturing goods or mining.
Industry solutions from LOCTITE® include:
Automative:  Find solutions to bond vehicle parts during manufacture and repair, helping increase performance and sustainability.
Industrial Maintenance and Repair: Discover protective coatings, effective sealants and training services to reduce unplanned downtime.
Manufacturing: Explore LOCTITE® adhesives for bonding, locking and sealing applications during general manufacturing tasks. Streamline your production process.
LOCTITE® Maintenance and Repair Solutions
LOCTITE® solutions for maintenance, repair and operations, also known as MRO, or industrial maintenance, ensures your key machinery is reliable and working at optimal levels.
With a full compliment of maintenance adhesives, repair epoxies lubricants, coatings and sealants, LOCTITE® can repair and improve the reliability of almost any piece of equipment and machinery. This helps increase uptime and productivity within your plant.
With a wide range of "Preventive Maintenance and Repair" products helps to keep operations running for longer, increasing the time between breakdowns and eliminating the risk of failure.
START DISCOVERING LOCTITE® full suite of maintenance adhesives, repair epoxies, lubricants, coatings and sealants.
Each one works to reduce downtime and improve the reliability of almost any piece of equipment and machinery by:
Preventing mechanical failures
Eliminating leakages
Improving repairs and extending equipment life