Your First Stop in Mind for EV Charging Products & Solutions Needs
Electric Vehicles Are The Future
Global EVs are predicted to make up two thirds of all road vehicles by 2050, per Bloomberg. Figures from the Singapore Land Transport Authority (LTA) show the number of EV registrations have risen in first half of 2021.  This is aligned with the global transition trend.
Singapore is aiming to phase out Internal Combustion Engine (ICE) vehicles and have all vehicles run on cleaner energy by 2040. More government initiatives have rolled out to increase EV adoption. LTA launched the Electric Vehicle Common Charger Grant (ECCG) to encourage the installation of shared Electric Vehicle (EV) chargers in non-landed private residences (NLPRs), such as condominiums and private apartments.
EV charging stations are becoming the essential infrastructure required in building facilities. How ready are your facilities to adopt this new future?
2025
Cease new diesel car & taxi regulations.
2030
Progressively make all of town EV Ready. 60,000 EV charging points across Singapore.
2040
Phase out Internal Combustion Engine (ICE) vehicles. All vehicles run on cleaner energy.
How We Can Help To Take Your Facilities To A New Heights
Electric Vehicle Leasing
Together with our partners, we are offering leasing and selling of electric commercial vehicles to help you in your decarbonisation journey.
EVC Supply
We supply the best value electric vehicle chargers (EVC) from reliable partners to ensure safe and smooth charging experience.
EVC Installation
We offer installation services by Certified Electrical installers, with endorsement by LEW to ensure the charging infrastructure is aligned with Singapore rules and regulations.
Maintenance Service
Support doesn't end at installation. We provide after-sales maintenance services to help your EVC system run with maximum up time and in good conditions.
Charging Software
We provide the complete suite of EVC infrastructure which includes charging management systems and cost effective secured payment gateway solution.
Electrical Vehicle Chargers (EVC) Installations in Singapore
Warehouse
One warehouse in West Singapore installed ABB's Terra AC Wallbox EV chargers to provide charging services to their employees and visitors within their property.
Industrial
Terra AC Wallboxes have been installed in the carpark of an Industrial Building in East Singapore to provide charging services to their tenants.
Commercial
Customised printing on EV Chargers for branding purposes offer unlimited aesthetic. AC wallboxes are installed in outdoor carparks for customer and employee usage.
Residential
The best value home chargers with Bluetooth and WiFi capabilities are installed in multiple landed properties. The convenience of Bluetooth connection brings a seamless experience to the user.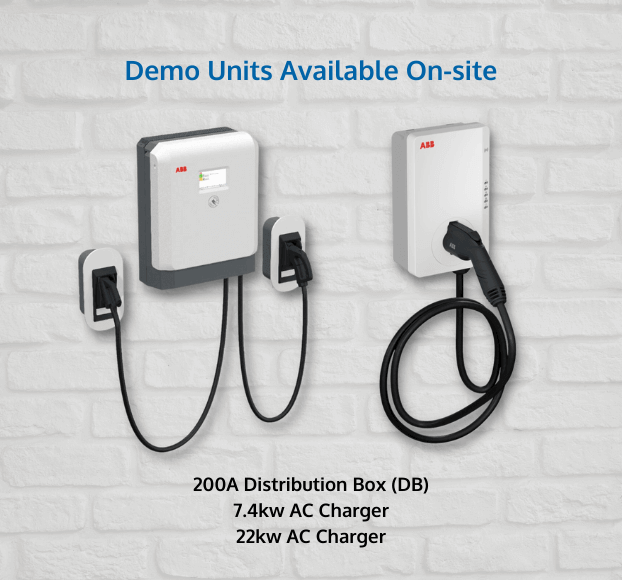 EVC Demo Station
Come visit our AC & DC Wallbox Chargers at the Lim Kim Hai Electric building at Kallang 339 177. Schedule an appointment with us for a demo session today!
Make an Appointment
From private homes to multi-tenant homes and residential communities
Hotels & hospitality sports institutions, shopping centers, commercial fleets, public or private campus, parking structures, car dealerships, race tracks
From small offices to large offices, industrial site, business parks and complexes
Street car park, bus depots, utility, sensitive grid applications
EV Frequently Asked Questions (FAQ)
Relevant Electric Vehicle Charger Topics