Lim Kim Hai Group of Companies
Electrical Solutions for a Connected World
About Lim Kim Hai Group of Companies (LKHGC)
Lim Kim Hai Group of Companies (LKHGC), a dynamic and diverse organization committed to excellence and innovation in electrical market. With a rich history spanning over six decades, we have evolved into a trusted and respected name, serving customers both locally and regionally.
Established with a vision to be a leading electrical solutions provider in Southeast Asia, our group has expanded to a wide array of business divisions, each dedicated to delivering best-in-class products and services.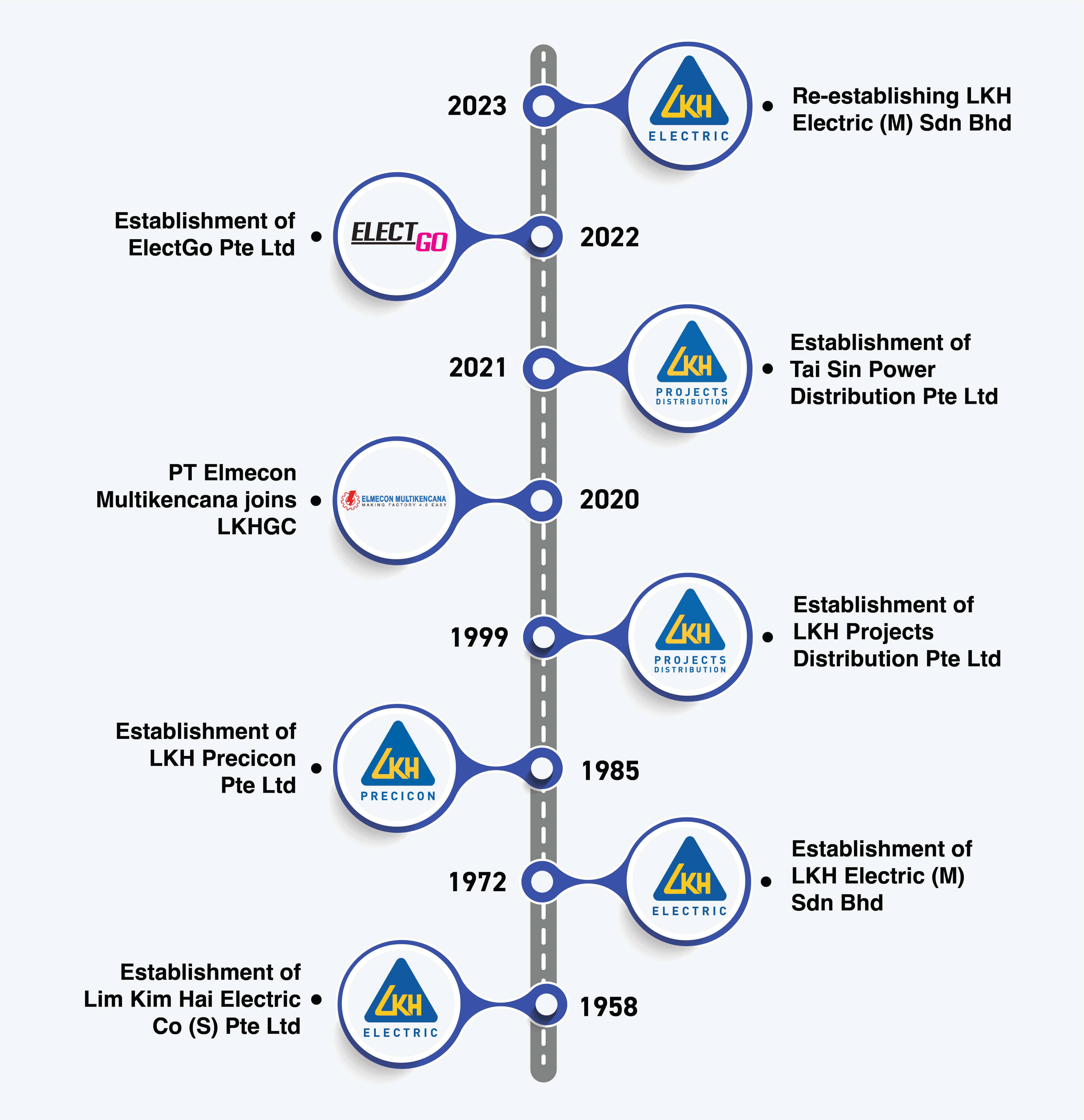 Electrical Solutions for a Connected World

To Be A Leading Electric Solutions Provider in Southeast Asia

We Are Committed To Providing "Safe And Save" Electrical Solutions Through Partnership With Stakeholders
At Lim Kim Hai Group of Companies (LKHGC), our mission is unwavering: to deliver "Safe & Save" electric solutions through strategic partnerships with all our valued stakeholders.
We are deeply committed to making a positive impact on the industry by emphasizing energy savings, cost efficiency, and superior safety through our comprehensive product offerings and collaborative approach.
Prioritizing "SAVE" – Harnessing Energy and Cost Savings:
Under the "Save" aspect of our mission, we prioritize the optimization of energy consumption and cost reduction for our customers. We recognize the importance of sustainable practices and energy efficiency in today's dynamic landscape. By implementing cutting-edge technologies and innovative strategies, we empower our clients to achieve significant energy savings, fostering a greener environment and long-term cost benefits.
Dedication to "SAFE" – Ensuring Premium Quality and Safety:
At LKHGC, safety is at the core of everything we do. The "Safe" aspect of our mission emphasizes our unwavering commitment to providing top-quality electrical products that meet the highest safety standards. We understand the criticality of maintaining a secure work environment, and our product range undergoes rigorous testing and scrutiny to ensure optimum performance and reliability.
Lim Kim Hai Electric Co (S) Pte Ltd
MRO Products Distribution
Established since 1958, Singapore's leading distributor of electrical solutions. Lim Kim Hai Electric demonstrates strength at every stage of the value chain, from knowledge-based sourcing, to a committed services team, and on-time delivery.
Power Distribution Solutions
LKH Electric (M) specializes in Power & Electrical Distribution, Automation Solutions, and EMF Testing Services. With a skilled team of professionals, we provide comprehensive solutions that ensure our customers have access to the latest technologies.
Industrial Automation Solutions
LKH Precicon offers end-to-end solutions to companies in need of industrial automation, and a key partner in achieving Industry 4.0 transformation requirements to build smart and connected infrastructures.
LKH Projects Distribution Pte Ltd
Project Solutions Provider
Serving the construction project industry, LKHPD is an established solution provider delivering a range of services including power distribution, data communications, lighting, and electrical distribution solutions.
Industrial Automation Solutions
Founded in 1978, a pioneer of Indonesia's industrial automation solutions, PT Elmecon leads the way as the primary distributor of internationally certified industrial automation and power distribution solutions.
Tai Sin Power Distribution Pte Ltd
Power Distribution Solutions
Tai Sin Power Distribution revolutionizes power distribution in Southeast Asia with busbar trunking system localized repair, replacement, and quality control tests from Singapore.
E-commerce Platform
An E-commerce platform offering a complete range of electrical components from trusted brand partners. ElectGo is synonymous with prompt delivery, excellent service, and reliable products