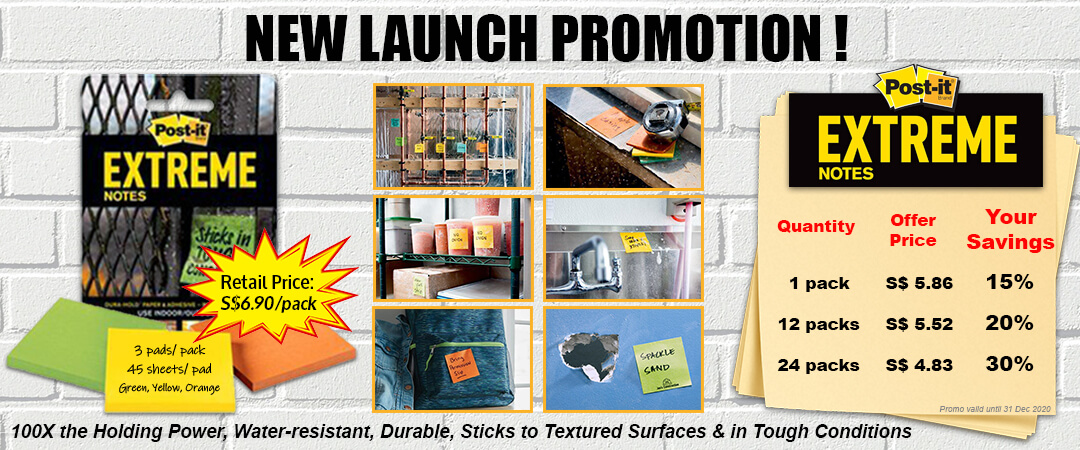 WHAT IS POST-IT EXTREME NOTES?
Water-resistant notes feature 100X the holding power, yet remove cleanly!
Water-resistant, durable and writable.
Made with ultra-strong Dura-Hold™ Paper and Adhesive.
Sticks to textured surfaces and in tough conditions.
Sticks in hot and cold environments.
When conditions make communication tough, Post it® Extreme Notes make leaving notes and reminders simple, so you can get the work done.
*Please note that Post-it® Extreme Notes are not recommended for use with gel pens.
WHY DO I NEED EXTREME NOTES?
Sometimes, a short and simple message is the most critical part which determines the success, even in extreme conditions. People always forgetful. You don't realize when will you miss the critical part.
Post-it Extreme Notes helps to give you and your team peace of minds. It helps to deliver a short and simple yet critical reminder to drive the successes! Don't underestimate this little thing!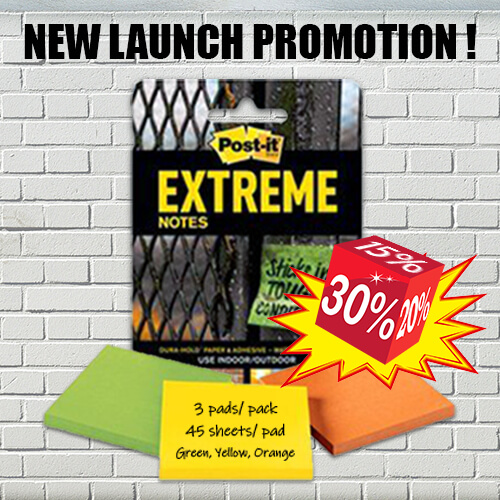 Post-it Extreme Notes @ Retail Price S$6.90/pack.
3 inch. x 3 inch.
Green, Yellow, Orange
3 Pads/Pack
45 Sheets/Pad
Purchase 1-11 packs at S$ 5.86/pack with 15% of savings.
Purchase 12-23 packs at S$ 5.52/pack with 20% of savings.
Purchase 24 packs and above at S$ 4.83/pack with 30% of savings!