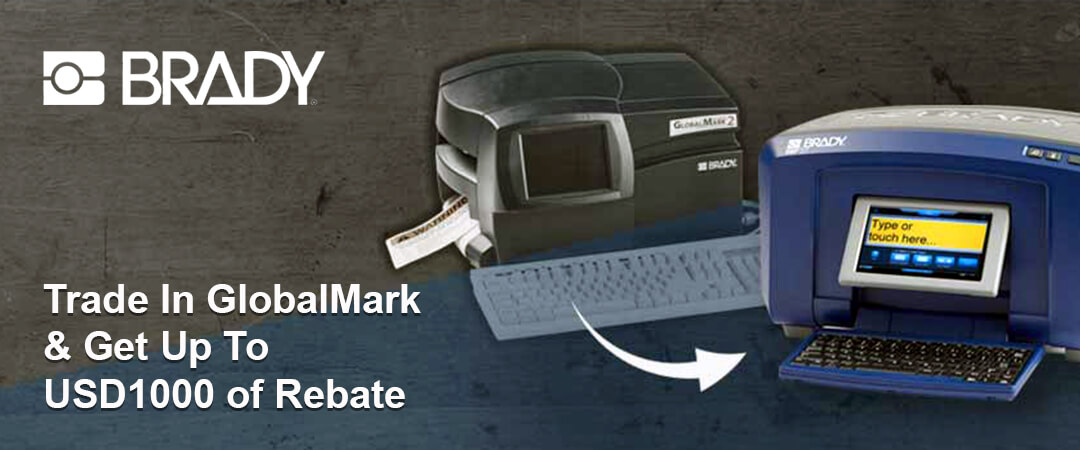 Save Up with Brady GlobalMark Trade Up
See the savings when you trade in your GlobalMark Printer
Your GlobalMark Printer has been an excellent tool for completing your identification projects, and now that it's retired, it's an excellent tool to earn some savings.
Promotion Period: valid until 31st July 2020 (Promo extended to 31st October 2020!)
With a new Brady Printer, you'll see:
On-going material savings — you'll save up to 15% annually on your label materials*
Time Savings — with a larger easier-to-use touchscreen and integrated keyboard**, more design wizards and up to 5x faster print speeds, you can get more done in less time
More Material Options — up to 2x more material options for identification throughout your facility so you don't have to buy additional printers to complete your tasks
* Annual label savings comparison based on using one 4 in. polyester tape roll per month and 1 ribbon cartridge every other month at manufacturers suggested retail price (MSRP).
** Available on BBP®37 Color and Cut Sign and Label Printer and BradyPrinter S3100 only.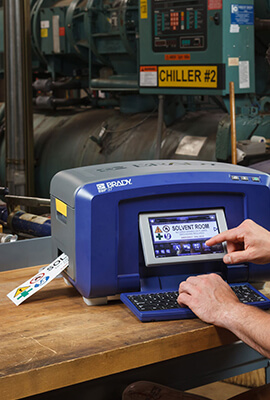 For an extremely limited time when you trade in your GlobalMark or competitive printer and purchase a new Brady printer, you can get up to USD 1,000 in free materials.
I'm Interested
The Benefits of On-Demand Printing
With an on-demand printer from Brady, you get a complete solution for all of your identification needs. With a range of tested and trusted products, you can easily complete identification projects with:
Thousands of sign, label, tape and tag options to fit a variety of applications
Ribbons and ink that provide long-lasting and clear identification
Intuitive and flexible software for fast and efficient label creation
User-friendly functionality – simple, fast and easy to use, without need for training
Local technical support, ready to answer your questions so you can get printing
Why waste precious time ordering pre-printed signs, when you can print them right at your own location, with personalized messages to specifically match your unique business environment?
Repeat as needed – as your business needs change, so can your messaging! Plus, the greater your identification and communication, the safer and more efficient your organization.
How Does This Promotion Work?
Step 1
Determine if you have an eligible printer to trade up until Oct 31, 2020
Brady Corporation: GlobalMark®1, GlobalMark®2, MiniMark®, Labelizer® Plus
Cobra Systems: VersaPrinter™ Striker3, StrikerPro, VnM4, VnM8
Creative Safety Supply: LabelTac 4, 4 Pro, 6, 9, Pro X
Epson ColorWorks: C831, C3400, C3500, C7500
Graphics Products: DuraLabel 9000, Kodiak, PRO 300, Toro
National Marker: U400LP, UDO400
Industrial Safety Solutions: SafetyPro, 4G, 7G, 9G, Evolution 600, Ranger
Max Systems: CPM-100
Step 2
Submit the Trade-up Online Form
Provide details of your existing printer with a serial number
Select one of these printer-and-label bundles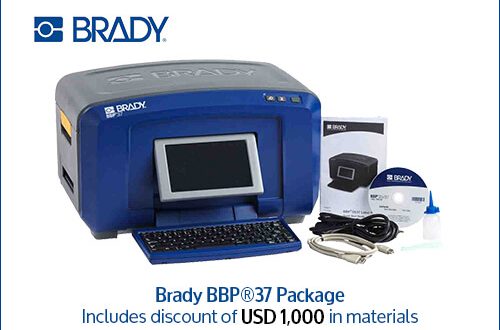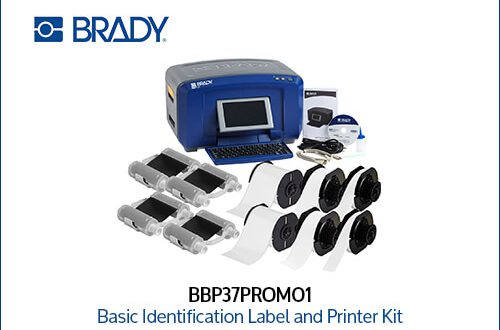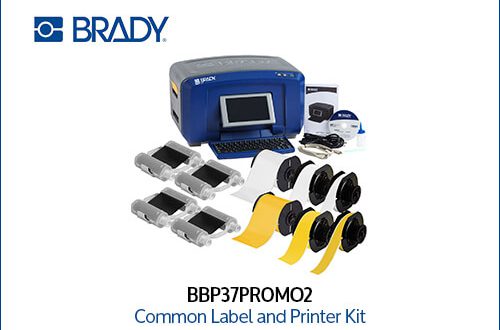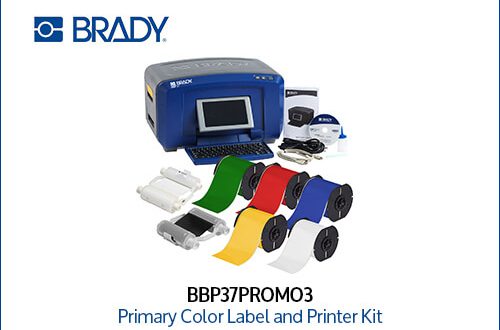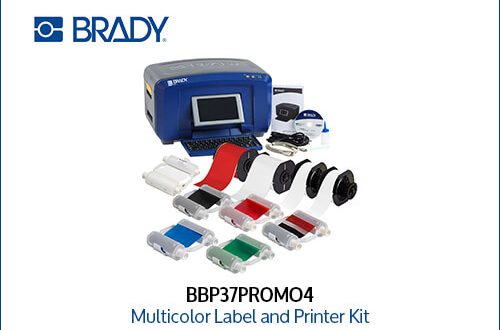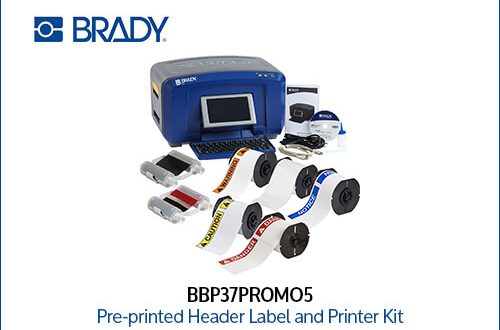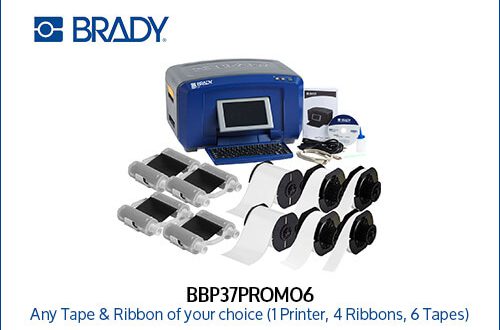 BBP37PROMO1
Basic Identification Label and Printer Kit
BBP37PROMO2
Common Label and Printer Kit
BBP37PROMO3
Primary Color Label and Printer Kit
BBP37PROMO4
Multicolor Label and Printer Kit
BBP37PROMO5
Pre-printed Header Label and Printer Kit
BBP37PROMO6
Any Tape & Ribbon of your choice according to your desired application (1 Printer, 4 Ribbons, 6 Tapes)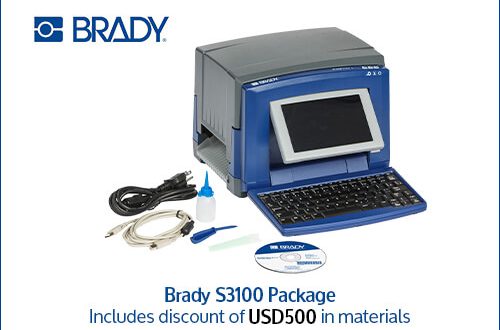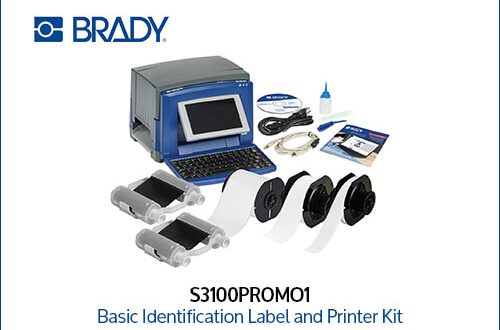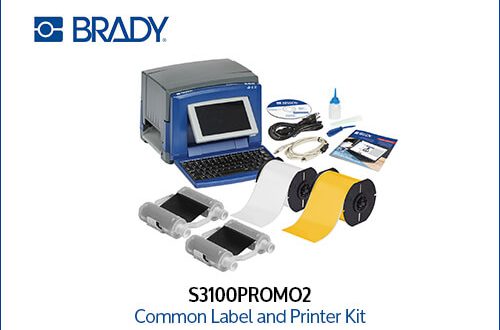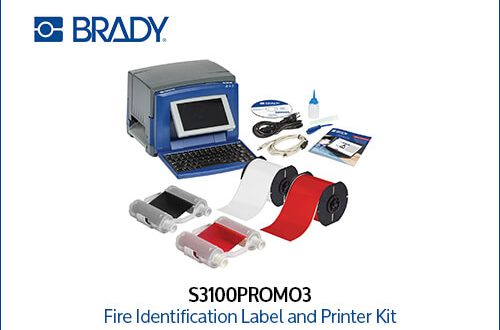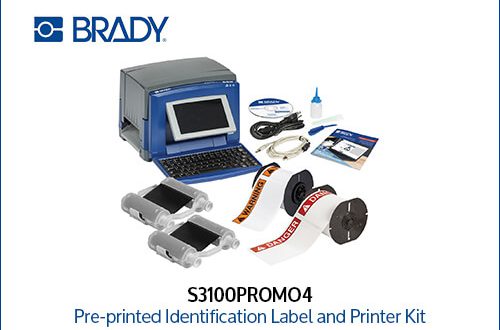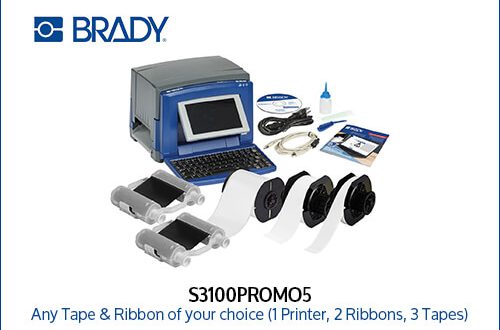 S3100PROMO1
Basic Identification Label and Printer Kit
S3100PROMO2
Common Label and Printer Kit
S3100PROMO3
Fire Identification Label and Printer Kit
S3100PROMO4
Pre-printed Identification Label and Printer Kit
S3100PROMO5
Any Tape & Ribbon of your choice according to your desired application (1 Printer, 2 Ribbons, 3 Tapes)
Fill Up Trade-Up Form S3100 / BBP37
BBP®37 Sign & Label Printer Overview
BBP37: Brady's Multicolor and Cut Benchtop Printer!
S3100 Sign & Label Printer Overview
Introduction to the BradyPrinter S3100 Sign & Label Printer