Omron Compo Wave Special Sales!
Great opportunity to get Omron Compo Wave Now!
Big savings of up to 40%!  What are your waiting for? This promotion is valid til Sept 2020 only! Don't missed it!
Power Supply S8VK & S8FS Series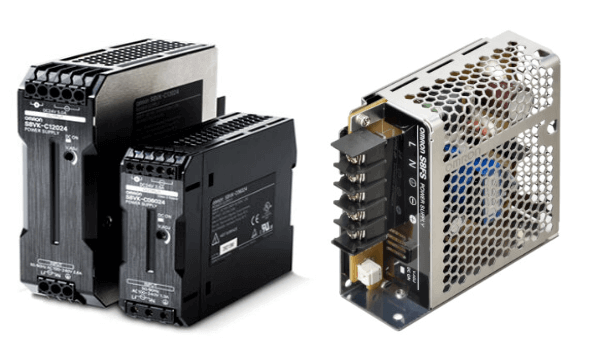 S8VK Power Supply Features
Easy and fast installation
The S8VK series not only offers you greater flexibility when designing your machine,  it also saves you time and reduces costs thanks to the minimal wiring requirements and easy onehanded mounting provided by the enhanced DIN-rail mounting clip.
Resistant in tough environments
Omron is confident that the quality of the S8VK will exceed your high expectations. Its robust design and construction withstand harsh environments and provide stable operation over a wide operating temperature range. Because of high MTBF figures, your S8VK will keep running in stable conditions for a long term.
Compact class on the market
Designed with space-saving in mind, the S8VK series is our most compact power supply range ever and the most compact class in today's market.
S8FS Power Supply Features
Designed to Withstand Abnormal Input Voltages Up to 300 VAC*1
In locations where the supply of power is not stable, it is common for abnormal voltages around 300 VAC to be input momentarily. The S8FS withstands this type of momentary abnormal input voltage
Improved Resistance to Noise of Several Tens of kHz from Inverters
Malfunctions in power supplies can be caused by strong noise of several tens of kHz transmitted from inverters or motors on the same AC line. OMRON measured the noise frequencies and sizes that occurred in actual machines in the past and used them as a standard to improve the noise resistance of the S8FS by harnessing circuit design knowhow to prevent noise from reaching the control section
Lightening Surge Resistance of 1.5 Times*1 the Standard Value
The catalog value conforms to the value specified in IEC 61000-4-5, but it has been confirmed that the ability has a margin of 1.5 times that value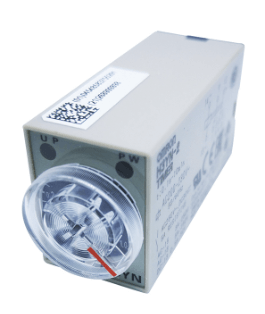 Omron H3YN Timer Features
Miniature size
Miniature size enables space-saving. Pin configuration compatible with MY Power Relay.
Wide time range
Standard multiple operating modes and multiple time ranges. Conforms to EN 61812-1 and IEC 60664-1 for Low Voltage, and EMC Directives.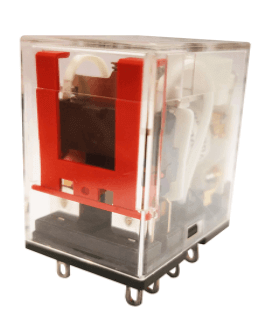 Omron MY Relay Features
Contact Status at a Glance
Mechanical indicators are now a standard feature so that you know the contact operating status even for standard models. The color of the operation indicator (LED) shows whether the coil voltage is AC or DC.
High Durability
High electrical durability and helps reduce maintenance frequency. Works up to 500,000 operations for two-pole relay and up to 200,000 operations for four-pole relay