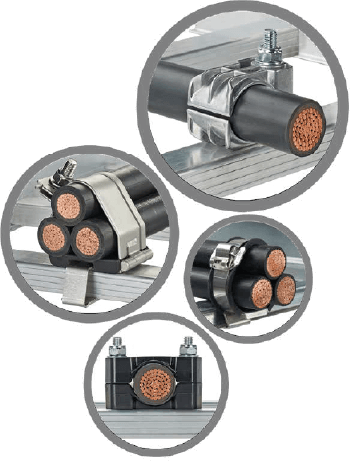 Panduit's extensive line of cable cleat solutions ensures cables remain contained in the event of a short circuit fault, minimizing disruption and damage to personnel and property. Uniquely engineered for ease of installation in a range of applications and harsh environments, Panduit has the right product to fit your needs while providing on the job productivity, reliability and safety.
All cable cleat families are available now and in stock:
Stainless Steel Trefoil Cable Cleat
Stainless Steel Buckle Strap Cable Cleat
Stainless Steel Locking Strap Cleat
Aluminium One & Two-Hole Cable Cleats
Polymer One & Two-Hole Cable Cleats
Polymer Trefoil Cable Cleat
Aluminium Trefoil Cable Cleat
Why Panduit Cable Cleats?
The industry's first solution that has streamlined the selection process, tested to IEC standards bringing the vision of creating an engineering specifiable products to the EPC and Contractor Firms.