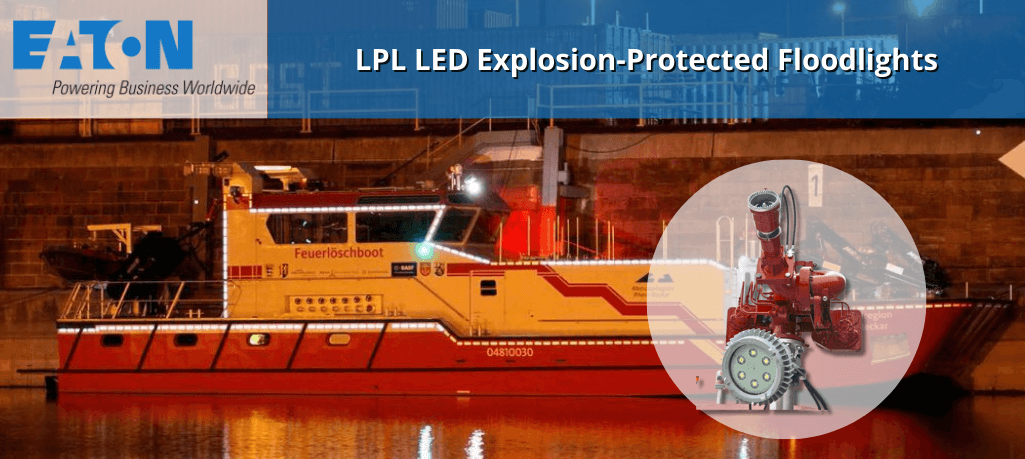 Powerful LED Lighting for Harsh Operating Conditions
The Crouse-Hinds LPL LED series is a long-life, energy-efficient luminaire for general area lighting in IEC applications. Certified for use in Zone 1, 2, 21 and 22 hazardous areas.
The Zone 1 LPL product Series LED Luminaires are designed to provide full-spectrum, white light. Multiple version of the LPL LED are available, providing ideal solutions for a wide range of applications.
| | | | |
| --- | --- | --- | --- |
| Model | Nominal Lumens | Wattage | Equivalent HID Luminaire |
| LPL18-C57-4L | 4270lm | 43W | 70W-100W |
| LPL18-C57-5L | 4994lm | 53W | 70W-100W |
| LPL18-C57-6L | 6418lm | 62W | 150W-175W |
| LPL18-C57-7L | 6680lm | 70W | 150W-175W |
| LPL18-C57-9L | 8998lm | 87W | 175W |
| LPL18-C57-10L | 9974lm | 105W | 250W |
| LPL18-C57-12L | 11700lm | 125W | 250W-400W |
| LPL18-C57-14L | 13721lm | 141W | 400W |
*Warm color available. Please contact Crouse-Hinds sales.
Standard Products Suitable for Pendant Mount
Optional mounting accessories available – U shape bracket and pole mounting bracket for wall and ceiling installation.
Perfect Temperature & Optical Performance for Wide Application
Best T- Rating: T6/T5
Permissible temp. range: -40˚C~+55˚C
Standard product cool white 5700K LED
Warm white 3000K is available for special environment such as smoke and dust environment
Outstanding Safety & Reliability; Robust Construction, Maintenance Free
Copper free aluminum housing, tempered and impact resistant glass globe, heat & corrosion proof
IP66 Protection
Ex de design, suitable for Zone 1 & Zone 2, Zone 21 & Zone 22 both gas and dust ex-hazardous area
Photobiological safety protection to RG1 (EN/IEC 62471)
Instant illumination and restrike
Cold temperature operation / no warm-up required
Redundancy in drivers with multiple series circuits connected to each driver to avoid complete loss of illumination
Energy-efficient technology – up to 65% energy savings over HID fixtures
Contains no mercury or other hazardous substances
Shock and vibration-resistant, solid-state luminaires have no filaments or glass components that could break, which greatly reduces the risk of premature failure
Life time ≥ 50,000h@55°C for 4L~12L
Life time ≥ 50,000h@40°C for 14L*
*14L was certified at 55°C, for life time of 55°C, pls contact Crouse-Hinds sales.
A: Robust Construction – This corrosion-proof fixture offers high quality, shock- and vibration -resistant LEDs, copper-free aluminum housing and an impact-resistant glass globe.
B: Excellent Thermal Management – Innovative heatsink ensures long life in extreme environments.
C: Lead-Free and Environmentally-Friendly
D: Emergency – Available with a self-contained battery system for emergency power loss applications.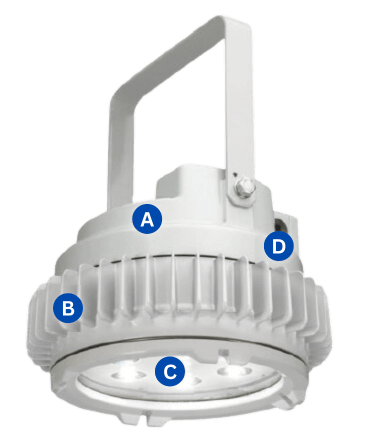 Marking Acc. to ATEX

II 2 G Ex db eb IIC T6/T5 Gb
II 2 D Ex tb IIIC T80˚C/T95˚C Db

ATEX Cert

EPT 17 ATEX 2592X

Marking Acc. to IECEx

Ex db eb IIC T6/T5 Gb
Ex tb IIIC T80˚C/T95˚C Db

IECEx Cert

IECEx CQM 16.0043X, IECEx SEV 19.0052X

Marking Acc. to GB

Ex d e IIC T6/T5 Gb
Ex tD A21 T80˚C/T95˚C

EMC compliance

EN55015:2006+A1:2007+A2:2000; EN61000-3-2:2006+A1:2009+A2:2009;
EN61000-3-3:2008; EN61000-6-2:2005; EN61547:2009

Rated voltage

Nor: 100~277V AC 50/60Hz, 127~250V DC
EM: 100~240V AC 50/60Hz, 127~250V DC

THD

<15% @120V~230V AC
<20% @277V AC

Power Factor

≥ 0.9

CRI

5700K(CRI 70) / 3000K(CRI 80)

Cable Entry

2xM25x1.5 or 2xM20x1.5, 1 entry plugged

Terminal

L, N, PE; solid: 0.5mm2-6mm2; Flexible: 0.5mm2-4mm2

Permissible Ambient Temperature

-40˚C~+40˚C/45˚C/55˚C(Nor), -40˚C~+55˚C(EM)

Emergency Duration

IEC 60598-2-22 compliance

SS563 Part 1 & 2

EM1=100% lumen output(4L)
EM2=35% lumen output(6L&7L)
EM3=25% lumen output(6L&7L)

Degree of Protection

IP66

Insulation Class

I

Dimension

Ø350 x 240 (mm)

Net Weight

Nor: 17kg, EM: 20kg