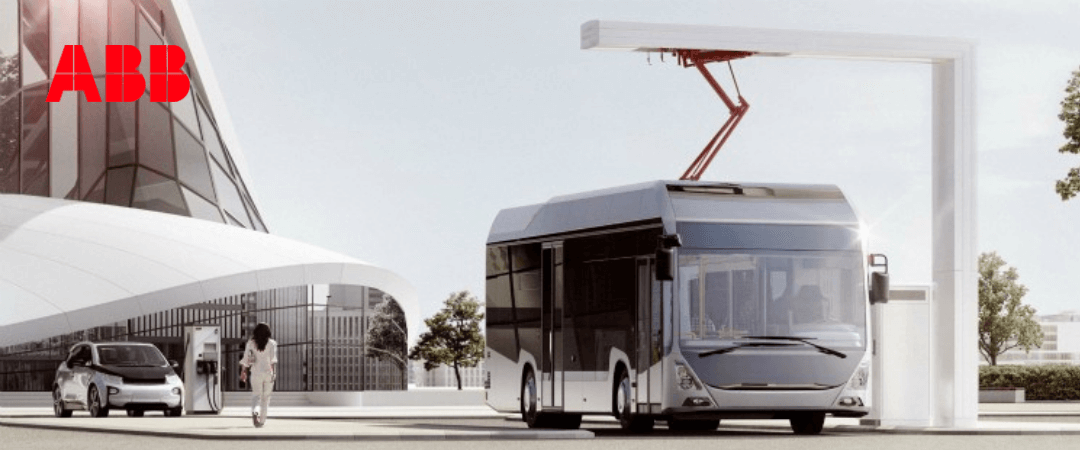 ABB Electric Vehicle Charging Infrastructure
ABB lays the foundations for a future of smarter, reliable, and emission-free mobility, accessible by everyone, everywhere.  ABB offers a total EV charging solution from compact, high quality AC wallboxes,  reliable DC fast charging stations with robust connectivity, to innovative on-demand electric bus charging systems. ABB deploy infrastructure that meet the needs of the next generation of smarter mobility.
ABB is contributing to both private and public advancements in electric vehicle infrastructure, and Singapore offers an ideal microcosm of some of the latest developments.
ABB e-Mobility in Singapore
Smart Charging Infrastructure for Singapore Port's Automated Guided Vehicles
With electric vehicle (EV) numbers growing rapidly, ABB is investing significantly in the development of new battery charging technology and its infrastructure. In a first for ABB, the company's chargers will serve a fleet of automated guided vehicles (AGVs) in commercial operation. PSA Singapore chosen ABB as a partner in the major expansion of its port facilities.
When completed in 2040, PSA's Tuas Port in Singapore will feature the world's largest fully automated container terminal. With an annual handling capacity of 65 million TEUs (twenty-foot equivalent unit), this future terminal will be a major milestone in Singapore's development.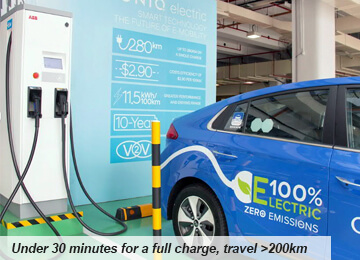 ABB's DC fast charger is powering ComfortDelGro's first two fully electric cabs in under 30 minutes
ComfortDelGro, one of the world's largest land transport companies with operations in seven countries, has put two fully-electric Hyundai Ioniq taxis on trial in Singapore. The operator uses ABB's Terra 53 DC fast charging station, and is available round-the-clock at Komoco Motors on Alexandra Road. Taking just under 30 minutes for a full charge, the Ioniq taxi can travel more than 200km, and with ABB's pioneering e-mobility technology the cost of charging it fully is only a third of the cost of diesel for the same distance.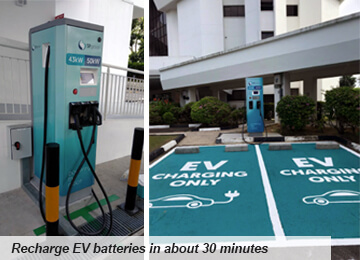 SP Group has chosen ABB's charging stations to drive Singapore's sustainable mobility revolution.
ABB has been selected to supply its DC fast charging stations as part of an ambitious electric vehicle (EV) infrastructure initiative in Singapore to accelerate the adoption of EV in the city-state.
SP Group has selected the chargers, which can recharge EV batteries in about 30 minutes, as part of its deployment of 1,000 EV charging points across Singapore by the end of 2020.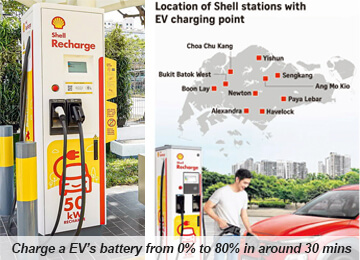 ABB to install EV charger network in Singapore petrol stations to power e-mobility in Singapore
ABB's team worked with Shell to deliver and commission its market-leading electric vehicle infrastructure at 10 Shell stations across the island.
These feature ABB 50kW Terra 54 DC fast-charger solution, which can charge a vehicle's battery from zero to 80% in around 30 minutes. Not only is it compatible with most electric vehicle models, it was rigorously tested to ensure optimal performance in a petrol station context.
ABB Writes The Future of Sustainability Mobility … Globally
With so many EV types entering the market, the rush is on to build charging stations – which is where ABB comes in. ABB has years of experience in developing, installing, commissioning, and maintaining charging infrastructures. In fact, the company is now the partner of choice for the world's biggest electric vehicle OEMs and nationwide EV charging network operators.
This experience has underpinned the decision by major companies and public entities to choose ABB as a partner in the deployment of public transit, private vehicle, and AGV charging. Some of the examples as below.
Milan: Ticket To A Cleaner Future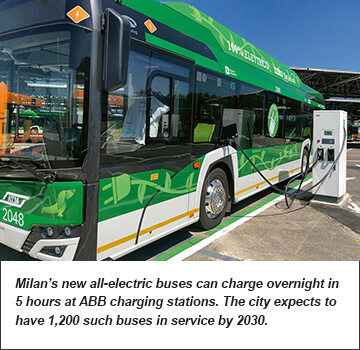 Northern Italy's industrial metropolis, has a roadmap to a green future. The city of over three million plans to trade in all of its 1,200 diesel buses for brand-new all-electric ones by 2030.
Initial plans call for three of the city's five bus depots to be converted into electric charging hubs for buses as well as for large fleets of service vehicles. In addition, four new depots will be built. One of the hubs is also being outfitted with 100 kW recharging stations from ABB, as well as modular ABB transformer stations and plug-in charging columns, all of which will be managed by algorithms designed to optimize the recharging process while minimizing energy demand. Substantial amounts of energy will also be saved once an automated and optimized parking system for arriving and departing buses is implemented.
By the end of 2021, the city expects to be operating 167 fully electric buses and 8 terminus stations equipped with 200-kW pantographs, each capable of supplying 35 kWh in eight to 10 minutes – more than enough power to ensure an effortless return trip to the depot, regardless of heating and cooling requirements.
Japan: Modernize The Electric Vehicle Infrastructure & Accelerate The Shift Toward Sustainable Mobility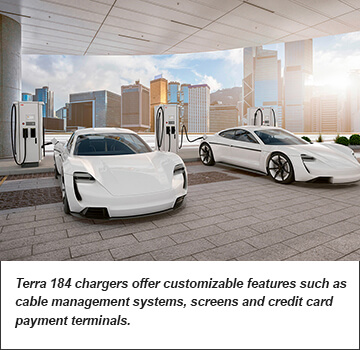 Japan wants to modernize its electric vehicle infrastructure and accelerate its shift toward sustainable mobility. More specifically, it intends to increase the share of EVs and plug-in hybrids on its roads to between 20 – 30 percent by 2030, from just 1 percent in 2018.
To meet this goal, e-Mobility Power Co., Inc, (eMP), a joint venture between Tokyo Electric Power Company Holdings (TEPCO) and Chubu Electric Power, two of Japan's biggest utility companies, has selected ABB's Terra 184 electric vehicle chargers. The high-power, compact chargers will be installed at roadside retail locations and other public places across the country to offer users quick and convenient charging options anytime, anywhere. In late 2020 eMP began replacing obsolete chargers with more than 250 units of Terra 184.
With the ability to charge up to two electric vehicles simultaneously, the Terra 184 is part of ABB's product line of DC fast chargers. Designed to produce 180 kW of charging power for one outlet or simultaneously providing 90 kW for two separate outlets, the chargers are capable of handling future EV models equipped with high voltage battery systems and can provide a quick refill of 60-mile range in under 8 minutes of charge.
More Electric Vehicle (EV) Topics
In Lim Kim Hai Electric, we are proud to be the authorised distributor for ABB chargers in Singapore. We are supplying the Electrical Vehicle Chargers (EVC) with installation and maintenance. We are also offering a payment gateway solution for commercial and industrial needs. Contact us for more details!