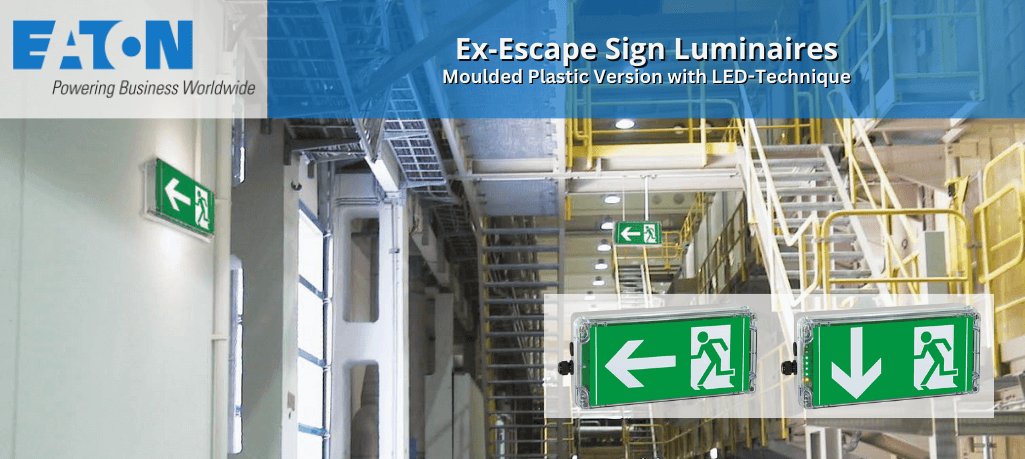 EXIT for Zone 1 and Zone 21 / EXIT 2 for Zone 2 and Zone 22
Designed for Zone 1, 2, 21 and 22 hazardous locations, these EXIT and EXIT2 LED exit signs from Eaton's Crouse-Hinds Division feature long-life LEDs, intrinsically safe circuits, and an IP66 rating. These exit signs are ideal to denote escape routes and exits in IEC explosive atmospheres.
The EXIT series of explosion-protected escape sign luminaires fulfils the requirements of ATEX Directive 2014/34/EU and EN 60598, Section 2.22 for emergency lighting luminaires. The luminaires are suited for marking escape routes and exits in hazardous areas.
The housing of this luminaire is made of high-grade polycarbonate and it goes without saying that the escape signs comply with the latest standards.
Maintenance-Free Operation
The white LED technology used as the light source allows maintenance-free operation without replacement of the illuminant. The lighting values required for the escape sign are maintained throughout the complete service life of the LEDs.
This reduces operating costs and increases the operating safety considerably, in particular in locations that are difficult to access.
Self-Contained Battery Systems and Monitoring Functions
Emergency lighting luminaires with self-contained battery systems provide the required emergency lighting from a decentralized source, independent of central systems. These luminaires are particularly economical when used in extensive plants.
The disadvantage of the emergency lighting luminaires with self-contained battery systems was that they did not provide any information on the state of the luminaire.
However, this monitoring function has been incorporated in the EXIT N/EXIT 2 N escape sign luminaire. Five green LEDs supply constant information on the charge status and available battery capacity and a yellow LED indicates the emergency lighting operation mode.
The extended self-monitoring with automatic function and partial duty cycle test is also new. An automatic function test lasting 5 minutes is carried out on a weekly basis. For this, the luminaire is switched electronically from mains to battery operation. The emergency lighting function is tested and any faults are indicated by the flashing red LED.
¹

Option: 3 x 4 mm² screw terminals

EXIT 2 N

EXIT N

EC-Type Examination Certificate
BVS 15 ATEX E 074
BVS 09 ATEX E 029
IECEx Certificate of Conformity
IECEx BVS 15.0065
IECEx BVS 13.0017
Marking Accd. to 2014/34/EU
D II 3 G Ex e ic mc IIC T5/T4 Gc
D II 3 D Ex tc IIIC T80°C Dc
D II 2 G Ex e ib mb IIC T5/T4 Gb
D II 2 D Ex tb IIIC T80°C Db"
Marking Accd. to IECEx
Ex e ic mc IIC T6/T5 Gc Ex tc IIIC T80°C Dc
Ex e ib mb IIC T5/T4 Gb Ex tb IIIC T80°C Db
Permissible Ambient Temperature

Specified Data

-20 °C up to +40°C (T5)
-20 °C up to +50°C (T4)
+5 °C up to +35 °C
-20 °C up to +40°C (T5)
-20 °C up to +50°C (T4)
+5 °C up to +35 °C
Battery
12 V/800 mAh NC-Accu
12 V/800 mAh NC-Accu
Rated Power Consumption
Approx. 10 VA
Approx. 10 VA
Rated Voltage
110 V – 277 V AC
110 V – 250 V DC
110 V – 277 V AC
110 V – 250 V DC
Rated Current AC/DC
230 V ≃ 50 mA,
110 V ≃100 mA
230 V ≃ 50 mA,
110 V ≃100 mA
Frequency
DC and 50 – 60 Hz (AC)
DC and 50 – 60 Hz (AC)
Charging Duration for Capacity > 90%
24 h
24 h
Power Factor cos Φ
≃ 0.5
≃ 0.5
Circuit
Electronic Power Supply
Electronic Power Supply
Protection Class
I
I
Viewing Distance SS563 Compliance
30 m
30 m
Lamp / Illuminant
High Output-LEDs, White
High Output-LEDs, White
Rated Emergency Lighting Duration
Approx. 3 h
Approx. 3 h
Dimensions (L x W x H)
356 x 175 x 76 mm
356 x 175 x 76 mm
Connecting Terminals
3 x Loop Terminal 2 x 2.5 mm²

¹

3 x Loop Terminal 2.5 mm²

¹

Enclosure Colour
Grey, RAL 7035
Grey, RAL 7035
Enclosure Material
Polycarbonate
Polycarbonate
Weight
2.5 kg
2.5 kg
Cable Glands / Gland Plates /
Enclosure Drilling
1 x Ex-e Cable Glands
M20 x 1.5 (plastic) /
1 x Ex-e-Screw Plug M20 or
2 x M20 x1.5 Metal Thread,
1 x Screw Plug M20
1 x Ex-e Cable Glands
M20 x 1.5 (plastic) /
1 x Ex-e-Screw Plug M20 or
2 x M20 x1.5 Metal Thread,
1 x Screw Plug M20
Type of Mounting
Wall Mounting
Wall Mounting
Degree of Protection Accd. to EN 60529
IP66
IP66
Protective Cover / Protective Bowl
Polycarbonate
Polycarbonate