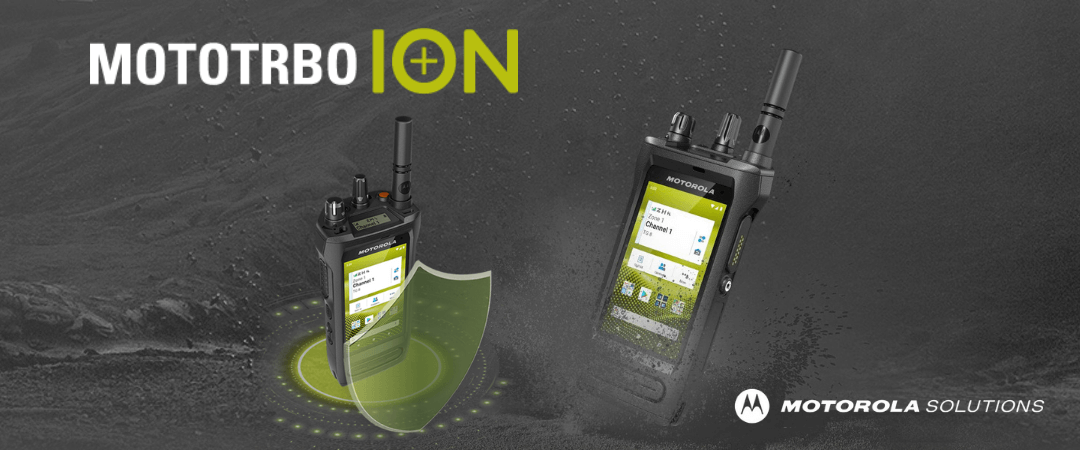 MOTOTRBO™ Ion Rugged Smart Radio
The MOTOTRBO Ion Rugged Smart Radio by Motorola Solutions is the first business-ready rugged communication device with all-on voice and broadband data capabilities and certified to use in Hazardous Area
MOTOTRBO Ion brings together renowned PTT performance, an open app ecosystem on the Android platform, and access to the Motorola Solutions technology ecosystem — including video security and analytics, and best-in-class network security. With Ion, teams stay connected across networks and devices. Business-critical data and workflows are unified and simplified. And the capabilities your workforce needs to be at their best are always on.
Features of MOTOTRBO Ion Smart Radio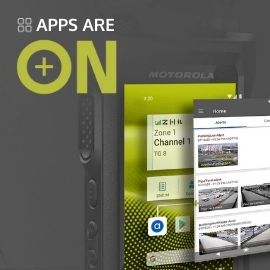 Full multimedia capabilities on an Android platform with an open app ecosystem. An intuitive touchscreen lets you view high resolution images, and an integrated camera lets you send — even stream — photos and videos.
Android Platform
A seamless user experience for anyone familiar with Android's technology ecosystem.
Open Application Ecosystem
Access any app on the Google Play store, and the full G-Suite – Gmail, Calendar and more.
Motorola ecosystem
Your entry point to Motorola's ecosystem where voice, video, data and analytics are unified.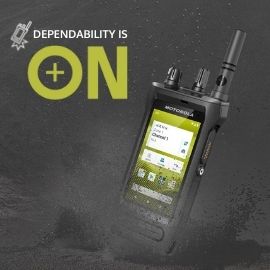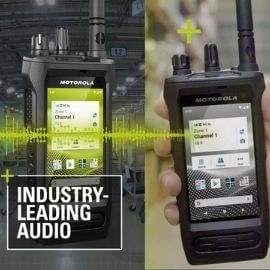 Designed for durability and ease of use, in any environment. Pristine audio quality lets you hear and be heard when it matters most. And ultra-strong materials — including a rugged touchscreen — are used inside and out for outstanding impact resilience.
Built for any environment
Unmatched durability – Completely dust-tight and protected from immersion in water, and can withstand a four foot drop onto concrete.
Industry-leading audio
Hear and be heard – With industry-leading volume, clarity, and noise suppression features, MOTOTRBO Ion's voice communications outperform the competition.
Ultra-rugged touchscreen
Smart and resilient – Excellent impact resilience, with structural support for shock absorption, immune to false actuation from liquids, and works with or without gloves.
Customizable experience
Built around you – Purpose-built accessories let you quickly reach and use your smart radio, making it even easier to communicate while staying focused on your work.
Redesigned antenna
Shorter, more flexible – More comfortable to wear and easier to use without snagging on clothing – all without compromising range.
Intrinsically Safe
No fire / ignition risk – MOTOTRBO Ion is the only touchscreen commercial smart radio that is intrinsically safe.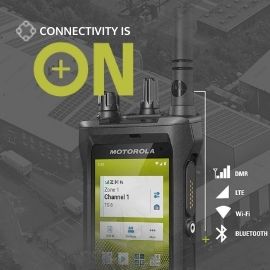 Built to keep your workforce connected anywhere you do business. You can seamlessly communicate through voice and data, over public and private networks. And with Seamless Voice Handover feature automatically switches you to broadband when you roam beyond your radio system coverage, so your connectivity is always on when you need it.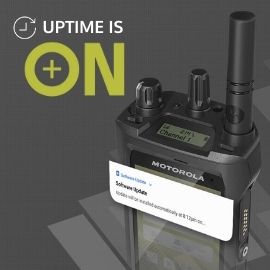 A revolutionary ownership experience lets you deploy your smart radios faster and keep them in the field longer. With cloud-based configuration and provisioning, remote updates, and real-time device monitoring, you can deploy and maintain your radio fleet with minimal touch and downtime.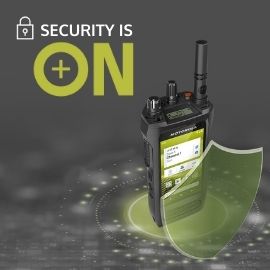 Stay safe from cyber threats. A defense-in-depth approach provides multiple layers of security to help prevent unauthorized device access and malicious activity, and to safeguard your critical data.
Overview of MOTOTRBO Ion Smart Radio